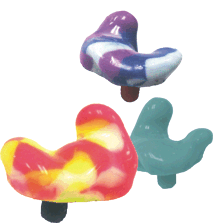 Swim and Water Sport Plugs
A New Generation in Custom Ear Protection
TFC Floatables are custom designed, made with a medical grade, hypoallergenic silicone material that offers a unique flexibility and softness. This superior grade material will not shrink or harden with normal use. TFC Floatables provide comfortable protection against water, wind, noise, and cold temperatures.
Made of soft silicone material for maximum comfort
Super soft seal keeps water out
Convenient handles makes them easy to remove, even with wet fingers
Optional right and left Identification
Floatable
Available in an array of solid and swirled colors
Optional removable cords available
Includes plug case
Splash it up by swirling two or three colors!